Welded carbon steel pipes for building materials
Product Detail
Product Tags
High-frequency straight seam welded steel pipes can be divided into straight-seam high-frequency electric resistance welded steel pipes and straight-seam high-frequency induction welded steel pipes according to different high-frequency welding processes. The forming process generally adopts roll bending cold forming method.
High-frequency straight seam welded steel pipes are generally produced with smaller calibers, generally below 660mm or 26 inches in outer diameter. Its characteristics are: fast welding speed, for example, for steel pipes with an outer diameter of less than 1 inch, the maximum welding speed can reach 200 m/min.
For steel pipes with an outer diameter of 25 inches, the welding speed can also reach more than 20 m/min. The welding is a crimping method instead of fusion welding. Compared with fusion welding, the welding heat-affected zone is relatively small and has little effect on the structure of the base metal. The strength and toughness of the weld after welding are different from those of the parent body. According to the needs of the material, the internal and external welding burrs can be cleaned or not cleaned. Welding does not need to clean up the workpiece, and can weld thin-walled pipes and weldable metal pipes.
High frequency straight seam welded steel pipe process: slitting-uncoiling-strip flattening-head and tail shear-strip butt welding-looper storage-forming-welding-removal of burrs-sizing-flaw detection-flying cutting-initial inspection -Steel pipe straightening-pipe section processing-hydraulic test-flaw detection-printing and coating-finished product.
High-frequency straight seam welded steel pipes are mainly used in water supply engineering, petrochemical industry, chemical industry, electric power industry, agricultural irrigation, and urban construction.
Used for liquid transportation: water supply and drainage. Used for gas transportation: coal gas, steam, liquefied petroleum gas. For structural purposes: as piling pipes and bridges; pipes for docks, roads, and building structures.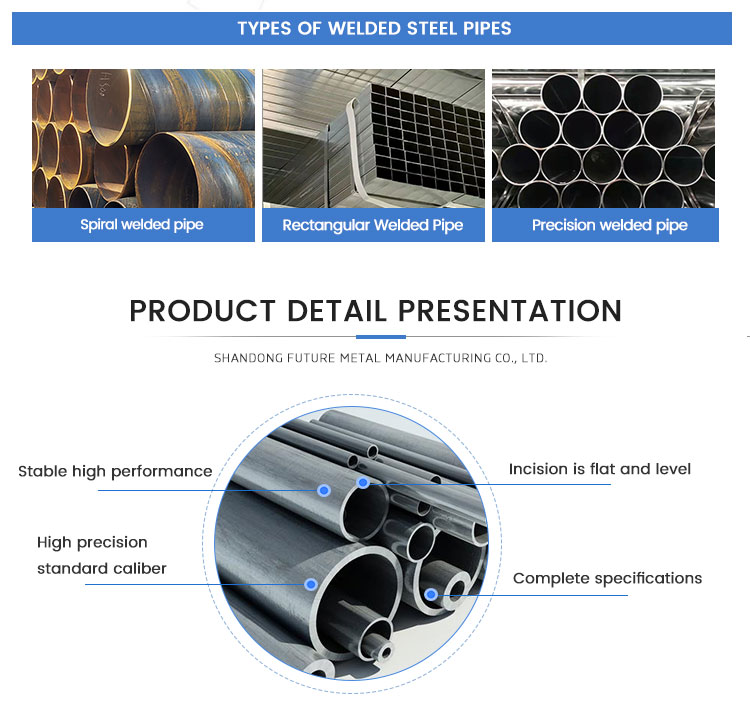 For conveying gas, water and oil either in the oil or natural gas industries.
| | |
| --- | --- |
| OD | 21.3mm -660mm |
| W.T | 1mm-20mm |
| LENGTH | 0.5mtr-22mtr |
| Surface | Fusion bond Epoxy coating, Coal Tar Epoxy, 3PE, Vanish Coating , Bitumen Coating, Black Oil coating as per customer's requirement |
| Standard | API5L, ASTM A53 GR.B, ASTM A178, ASTM A500/501, ASTM A691, ASTM A252, ASTM A672, EN 10217; API SPEC 5L ISO 3183 GB/T 9711.1 GB/T 9711.2 GB/T 9711.3 |
| Ends | Square Ends (straight cut, saw cut) Beveled Ends |
Tolerance of Outside Diameter
Standard

Out Diameter

Tolerance of Pipe

End Tolerance of Pipe Body

API 5L

219.1~273.1

+1.6mm-0.4mm

±0.75%

274.0~320

+2.4mm-0.8mm

±0.75%

323.8~457

+2.4mm, -0.8mm

±0.75%

508

+2.4mm, -0.8mm

±0.75%

 559~610

+2.4mm, -0.8mm

±0.75%
Why choose our welded pipe?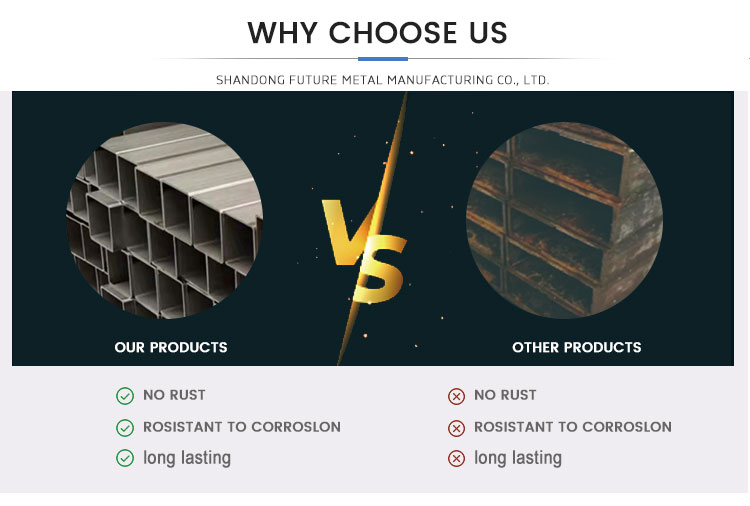 As a leading steel pipe/tube (carbon steel tube, stainless steel pipe, seamless pipe,welded pipe, precision tube,etc) manufacturer in China, we have a complete production line and a stable supply capacity. Choosing us will allow you to save more time and cost and get the maximum benefit ! 
If you are interested in our products, we can send free samples to you, and we can also accept the testing of third-party testing institutions. We pay attention to the reliability of product quality and the authenticity of test results and put customer interests first, so as to create a pleasant and win-win purchasing and trading experience for customers!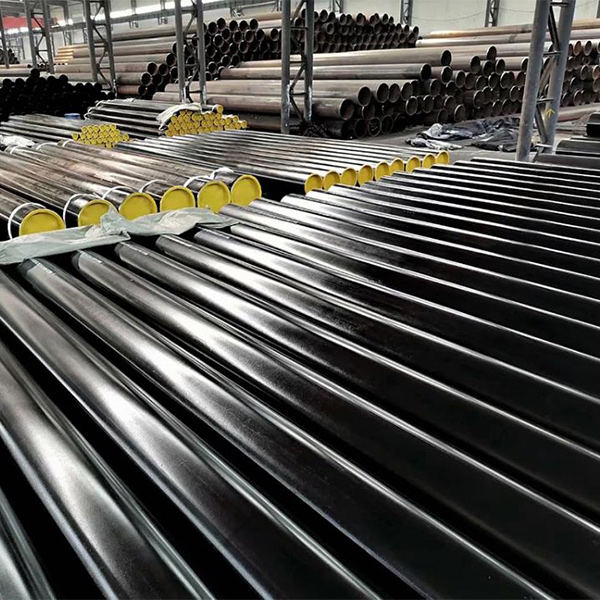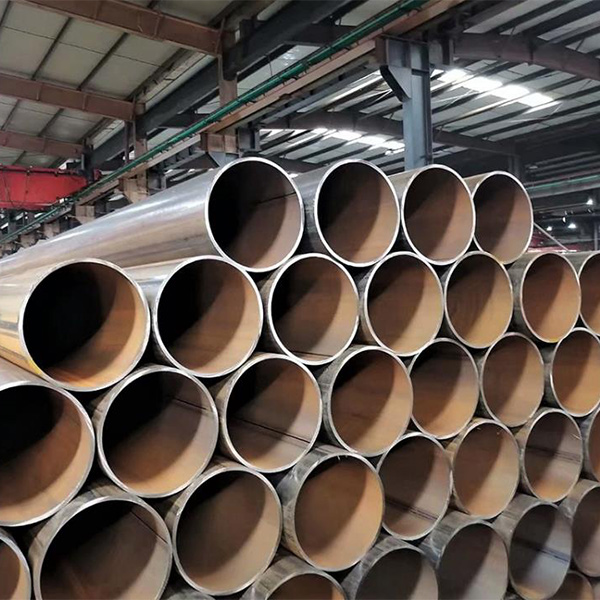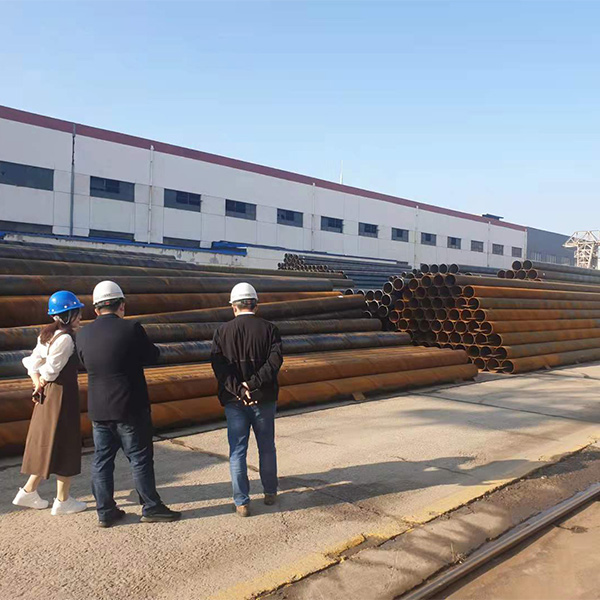 Professional Welded Tube Manufacturer In China
    Our factory has more than 30 years of production and export experience, exporting to more than 50 countries and regions, such as the United States, Canada, Brazil, Chile, the Netherlands, Tunisia, Kenya, Turkey, the United Arab Emirates, Vietnam and other countries. With a fixed production capacity value every month, it can meet the large-scale production orders of customers. Now there are hundreds of customers with fixed large-scale annual orders. If you want to buy welded pipe/tube,square hollow sections pipe/tube,rectangular hollow sections pipe/tube, low carbon steel pipe, high carbon steel tube ,rectangular pipe, carton steel rectangular pipe,square tube, alloy steel pipe, seamless steel pipe, carbon steel seamless tube,steel coils, steel sheets ,precision steel tube,and other steel products, contact us to provide you with The most professional service, save your time and cost !
    Our factory also sincerely invites regional agents in various countries. There are more than 60 exclusive steel plate, steel coil and steel pipe agents. If you are a foreign trading company and are looking for the top suppliers of steel plates, steel pipes and steel coils in China, please contact us. To provide you with the most professional and high-quality products in China to make your business better and better !
   Our factory has the most complete steel product production line and the strictest product testing process to ensure a 100% product pass rate; the most complete logistics delivery system, with its own freight forwarder, saves you more transportation costs and guarantees 100% of the goods. perfect packaging and arrival. If you are looking for the best quality steel sheet, steel coil, steel pipe manufacturer in China, and want to save more logistics freight, please contact us, our professional multilingual sales team and logistics transportation team will provide you with the best Steel product service to ensure you receive a 100% quality guaranteed product !
   Get the best quotation for steel tubes: you can send us your specific requirements and our multilingual sales team will provide you with the best quotation!  Let our cooperation start from this order and make your business more prosperous !
---
Previous:
LSAW Carbon Steel Pipe Welded Steel Pipe
---
Write your message here and send it to us