Stainless Steel Hand Soap Odor Eliminator Kitchen Bar Soap
Product Detail
Product Tags
30 seconds to reduce the odor for garlic odor, fish and other animal and plant odor, in the flowing water (more warm water effect is more good), the two-handed stainless steel soap can reduce the odor; in the flowing warm water, two hands rub the stainless steel soap 1 Minutes can reduce the smell of chemical products such as gasoline, diesel.
Before using stainless steel to taste soap, use ordinary soap to remove the remaining greasy effect. More reducing the refrigerator odor with a wet paper towel or wrapped in stainless steel soap, put it into the refrigerator refrigerated area, and after 24 hours, it can reduce the odor of the refrigerator; after the moisture on the paper towel, only the wet tissue needs to be reused. Do not put into the frozen area to avoid failure.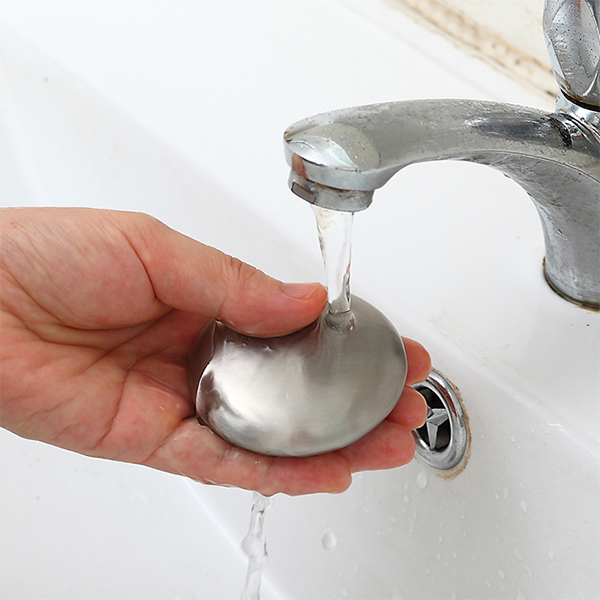 It is understood that the invention of stainless steel soap is unintentional! The engineers of stainless steel mills found that they were contaminated with strong oily hands, and when washing hands with stainless steel alloy parts, they can effectively remove the odor in their hands. Stainless steel soap deodorization principle is decomposed. When the stainless steel alloy is in contact with the air and the water molecules, the catalyst action will cause the molecular structure of the odor to decompose, "restore" into an odorless state.
Those who we often have a meal know that the knife made of stainless steel is not a smell, no matter what the garlic or onion is cut, the smell will not stay on the knife. The test shows that several quality levels of stainless steel soap is washed in cold water for 30 seconds, and I can remove about 90% of the onion, fish smell and garlic flavor; if the hand is stinky, wash 3 After minute, the ozone concentration will drop to the original 15%, and the odor remains left after 9 minutes.
---
---
Write your message here and send it to us